Welcome to Mauigoddess.Net
Workshop Specials apply until Jan. 15, 2011:
Bring two friends and everyone gets 25% off the full tuition fee.
If you have attended a previous workshop, you attend for $157!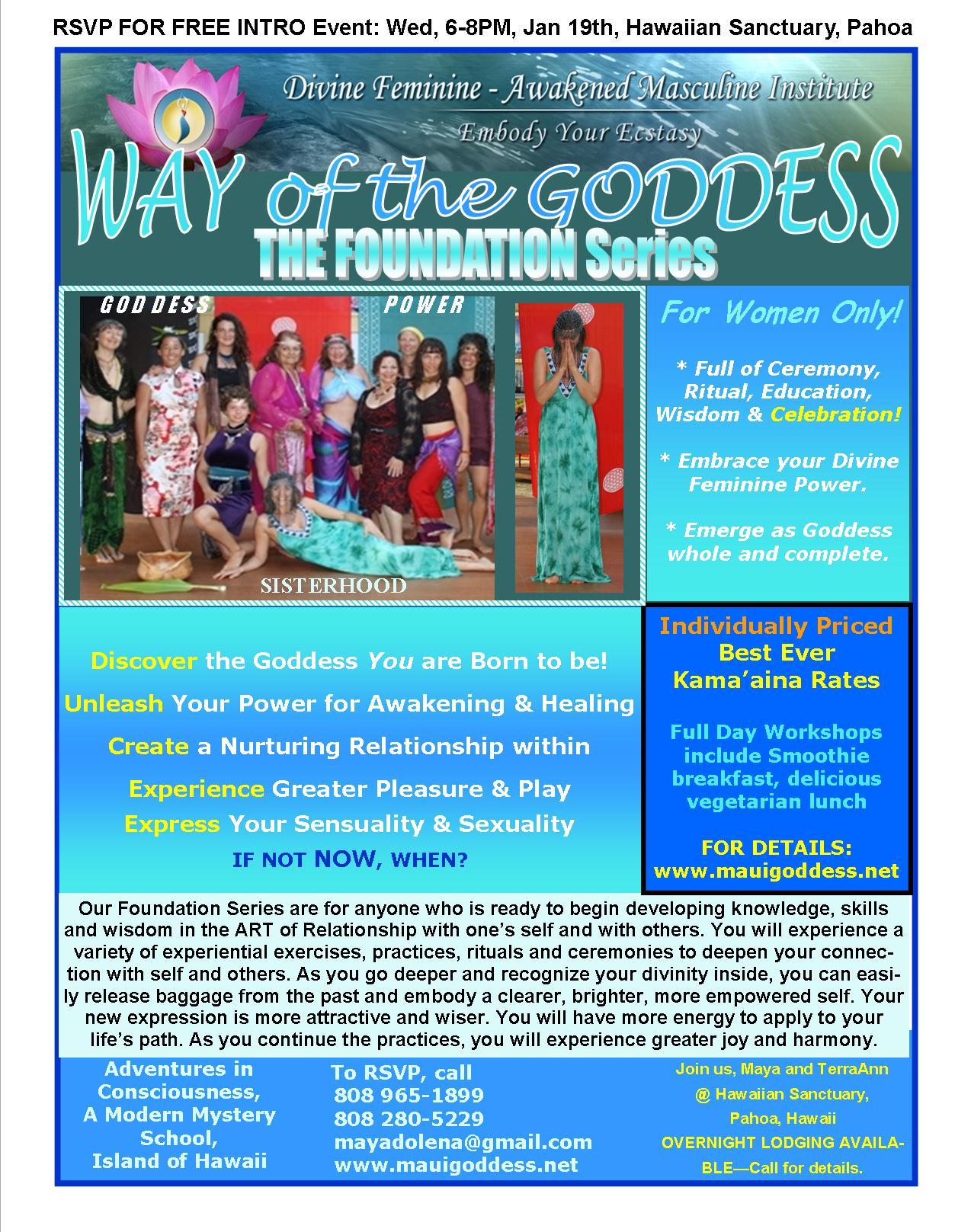 THE INITIATION WEEKEND, on Sept 25-26, 2010 was an incredible experience.
Goddess Power Expressed!
Tantra Yoga and Taoist Sexercises for Women, Drop-in Mondays beginning January 10, 2011
AWAKENING THE DIVINE MASCULINE TANTRIKA WEEKEND, JANUARY 29-30, 2011
LOVERS BOOTCAMP: COUPLES WEEKEND, FEBRUARY 12-13, 2011
WAY OF THE GODDESS INITIATION WEEKEND, FEBRUARY 26-27, 2011
---
Awakening the Divine Masculine with Maya Dolena, Jan 29-30, 2011
Women learn Sacred Arts to give Nurturing, Awakening & Healing to men.
For the Awakening the Divine Masculine Weekend, one of the other courses is a
pre-requisite or suitable experience.
Tantra Yoga for the Divine Feminine is a Sacred Art and a Spiritual Path.

Utilize the practices of White Tantra:
Cultivate your life force energy, Shakti, for Nurturing, Awakening and Healing yourself, then others.
Develop mastery in directing your energy for health and pleasure.
Learn the Sacred Art of the Tantrika to nurture and awaken the Divine Masculine in your life.
Learn release and healing practices.
Develop your own juicy Shakti to attract more love into your life.
Get in touch with your COMPASSION and UNCONDITIONAL LOVE for the men in your life.
This workshop is for women who want to develop a more loving relationship with their partner or
want to attract a partner in their life by cultivating unconditional love and practices
for the Divine Masculine.
TO REGISTER or FOR MORE INFORMATION:
Contact Maya Dolena 808 965-1899 or Email to: mayadolena at gmail.com
KAMA'AINA RATE IS $247: includes tuition, materials, Yoga,
breakfast smoothie and delicious vegetarian lunch for two days.
If you have attended one of our previous workshops, the KAMA'AINA RATE IS ONLY $157.
Short Bio: Maya Dolena has worked with thousands of men throughout her careers
as a corporate leader in a male dominated industry, as an executive coach,
as a life and relationship coach and as a Tantrika. She has worked with and observed
men who come from a broad range of backgrounds and situations all over the world.
She has developed many insights to help women in their relationships with men.
Maya is a certified Divine Feminine - Awakened Masculine Educator and Ambassador
of the Institute, a Certified Tantra Yoga Educator, Ontological Life Coach and
Divine Unions Relationship Coach.
---
LOVERS BOOTCAMP, DESCRIPTION WILL BE ADDED SOON
---
Way of the Goddess INITIATION WEEKEND
Do you want to experience more of the Goddess in you?
Are you wanting to express more of your true self?
Do you believe there is more to you than you can access right now?
Do you want to experience greater connect to your divine self and to others?
Then join us for your INITIATION into your Goddesshood.
Discover your Goddess self and be initiated into the Goddess Sisterhood!
Experience a Goddess Sisterhood Puja ceremony!

Remember your lineage. Claim it. Discover your Goddess Archetype for this lifetime.
Embody the Goddess you are meant to be.
The Divine Feminine Institute method of NAH, Nurturing, Awakening and Healing, is a method
of utilizing our energy to transform.
The RELEASE NAH helps you release the issues from the past, freeing and energizing you.
The AFFIRMATION NAH imprints you with empowerment and affirms your new self.
Open and energize your sacred feminine Shakti energy with breathwork, visualizations,
guided meditation, sacred practices and rituals.
Tap into and express your Shakti energy.
Experience greater joy and pleasure.
Our Tantric based sexercises for health and pleasure will rejuvenate and revitalize you.
Short Bio: Maya Dolena is a Certified Divine Feminine - Awakened Masculine Educator.
She is also a Certified Tantra Yoga Educator. Maya is an experienced
Ontological Life Coach and Divine Unions Relationship Coach.
She was an executive coach and leadership development workshop leader
for many leadership tranformational workshops.
She is well versed in several communication technologies including "Gender Speak".
---
NEW! Coming every Monday beginning, January 10, 2011 5:30 - 7PM
Tantra Yoga and Taoist Sexercises for Women
Get your sexy back! Unleash a sensual, more vibrant You.
What is your New Year's resolution?
Is it to take better care of yourself?
Is it to get more exercise and to be healthier?
Is it to attract a relationship into your life?
It is rare (I think) to say "I want to be sexier" as a New Year's Resolution. But isn't it one of your heart's desire, too?
What if you could rejuvenate yourself doing practices a couple of hours per week AND be sexier? Would you do it?
Is this what you are looking for?
Imagine feeling healthier, sexier and looking younger.
Imagine being able to cultivate your juicy sexual energy whenever you want.
Imagine enhancing your sensuality and be an attraction magnet.
Join the fun! It is only $10 per class.
Start your New Year with a commitment to taking care of You.
Each session will include
>practices to tone and enhance the internal muscles used in love-making
>gentle sexercises to improve flexibility and movement
>meditation and breath to power up the sexual energy
>dancersize to radiate the sensual energy throughout our bodies
Logistics:
Drop in every Monday beginning 01-10-11 from 5:30 - 7:00PM at Hawaiian Sanctuary, Hwy 130, MM 12 in Pahoa
For more information, email maya @ mauigoddess.net
Short Bio:
Maya Dolena is a certified Divine Feminine - Awakened Masculine Educator and Ambassador of the Institute and a Certified Tantra Yoga Educator. She was also a Salsa dance instructor and is trained in many of the sensual, Latin dances.